Rubber gym floor is the most common type of flooring in a gymnasium and other large areas where people exercise. Cleaning the gym floor after every use can be tedious, time-consuming, and expensive.
But with a handy vacuum cleaner that has an attachment designed specifically to clean up your gym floor, you will have no problem getting it done quickly and easily. You might even find yourself wondering why you didn't get one sooner!
Previously, we have posted the best mop to clean gym mats but this time we are going to discuss the best vacuum for rubber gym floor. We have compared different types of vacuums available on the market today. From all these models, I am sure that you will find the perfect model for you. So let's start our discussion.
Don't skip the buying guide section as it contains some useful information about how to choose the right vacuum cleaner for your needs.
Quick Comparison Table
Model
 Type
Power
Capacity
Noise Level
Filter
Suction Power
Price
NaceCare – 905033 Numatic Henry Vacuum Cleaner
Cannister
Battery+Cordless
6 liters
72 decibels
HEPA
Not specified
Check Price
Makita VC4210L Vacuum Cleaner


***Best Choice***

Cannister
Electric+corded
11 Gallon
60 decibels
HEPA
148 CFM
Check Price
Hoover CH53010 TaskVac
Upright
Electric+Corded
1.64 QT
Not specified
HEPA
59.66 CFM
Check Price
Fein Turbo II Vacuum Cleaner
Cannister
Electric+Corded
8.5 Gallon
66 dB
HEPA
153 CFM
Check Price
Dyson V11 Torque Vacuum Cleaner
Handheld
Battery+Cordless
1.89 L
75 dB
HEPA
185 Air Watts
Check Price
Best Vacuum For Rubber Gym Floor: Top 5 Models Reviewed
1. Henry Cordless Compact Canister Vacuum Cleaner
The name says it all. The Henry is a cordless canister little but powerful vacuum cleaner that's perfect for gym floors. It has an easy-to-use on/off switch, as well as a removable brush bar.
It comes with a handy carry handle, so you can move the vacuum around without having to drag a heavy machine behind you. And since this model doesn't have any cords, there's no chance of tripping over them.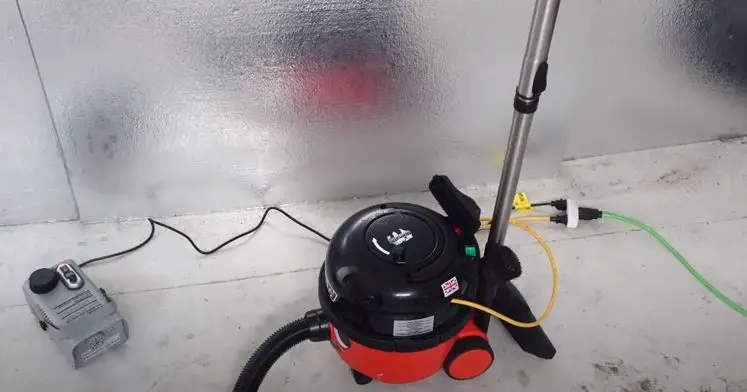 This vacuum has a powerful motor that will pick up dirt and debris from your gym floor quickly and efficiently. You won't have to spend hours cleaning your floor after each use.
This vacuum uses HEPA filters to trap allergens in the air, which means you won't be breathing in harmful particles while using it.
The only downside to this vacuum is its price tag. But if you're looking for a compact and powerful cordless vacuum, then this one might just be what you're looking for.
2. Makita VC4210L Wet/Dry Vacuum Cleaner
Yet, another great product from Makita! This is a very powerful and versatile vacuum that can be used to clean gym rubber floors, hardwood floors, tile floors, carpeted areas, upholstery, furniture, etc. It has the ability to remove dust particles as small as 0.3 microns (0.0003 mm) in diameter. The unit features an adjustable suction power control dial with three settings: High, Medium, and Low.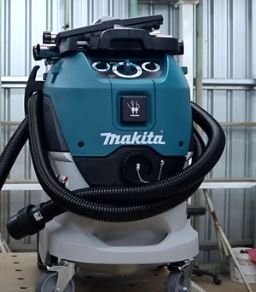 Rubber gym floor cleaning is made easier with the VC4210L's unique dual-action brush system. In my home gym, I use this vacuum to clean the floor after each workout session. It removes any sweat, oil, and residue left behind by the athletes. After using the VC4210L, the floor feels fresh and new again.
The VC4210L also includes a convenient handle that makes it easy to move around your gym equipment or home. And, it comes with a 13-inch-long hose that allows you to reach all those hard-to-clean places.
In gymnasium, fitness center, health club, spa, sauna, steam room, yoga studio, massage parlor, beauty salon, locker rooms, hotel, hospital, school, office, restaurant, bar, pool hall, bowling alley, and other indoor environments, this vacuum cleaner will help keep your facility looking its best.
The unit features a large capacity filter bag which holds up to 11 gallons of debris. The dust extractor also includes a built-in air blower that helps remove dirt particles from the air. The machine is equipped with a high-quality motor and brushless DC motor technology that provides consistent performance.
Using this model over time will not harm your flooring material. However, if you are vacuuming regularly, you may want to consider replacing the filter bag every 6 months.
3. Hoover CH53010 TaskVac Lightweight Upright Vacuum
My gym floor is 3000 square feet and 3/4th of the floor is rubber, so I need a vacuum that will pick up all the dust and dirt that gets on it. This model has an extra long hose to reach into corners and under heavy gym equipment. It also has a hard bag to keep the suction power strong when you are vacuuming in tight spaces.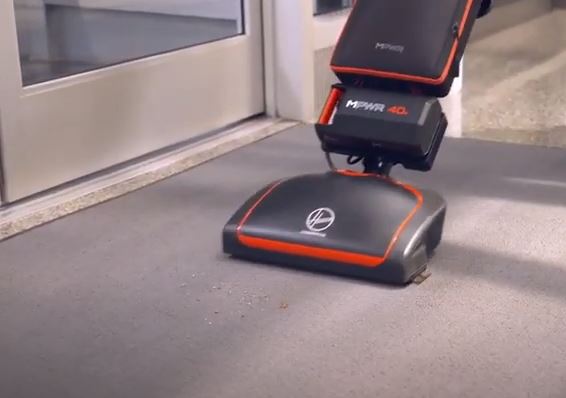 I bought this Hoover because my previous one was too small to get into some nooks and crannies around my home gym. The new one is much bigger than the old one, but still fits through most doorways. It's very easy to use and clean. I have had no problems with it at all. It picks up everything from dust to hair to cat litter. I would recommend this product to anyone who needs a good quality upright vacuum cleaner.
The long 35-foot cord allows you to easily maneuver your vacuum over large areas without getting tangled or tripping over the cord. You can even pull the cord out from the back of the machine if needed. The telescoping wand makes cleaning gym floors easier by allowing you to adjust its length as needed. A powerful motor provides enough suction to remove even the toughest messes.
The HEPA filter captures 99.97% of allergens and particles down to 0.3 microns, which means you'll be able to breathe easier after using this vacuum. The cyclone design traps debris while keeping air flowing smoothly, so you won't feel like you're working in a tornado. And since the HEPA filter is removable, you can wash it yourself if necessary.
Unlike the previous model, it doesn't come with a crevice tool. However, it does include a handy extension wand that lets you clean those hard-to-reach places. If you're looking for a great value, this is definitely our budget pick. But if you want something more powerful, we'd suggest going with the Makita VC4210L instead.
4. Fein Turbo II Wet/Dry Vacuum Cleaner
Your gym floor has a lot of chalk mess, and you need to clean it regularly, but your vacuum cleaner is not powerful enough to suck up all the dust from the floor. This Fein Turbo II wet/dry vac will help you get rid of all the dirt on your gym floor quickly and easily.
Over the years, I've been using this model for my home gym rubber floor cleaning needs. It's easy to use, lightweight, and works great! If I need to wet clean my rubber flooring, I just spread soap water to my rubber mat and let the vacuum suck up the dirty water. The suction power is good enough to remove most of the dirt from the floor. For dry cleaning, I simply run the vacuum over the floor without any liquid, and the brush picks up the loose debris.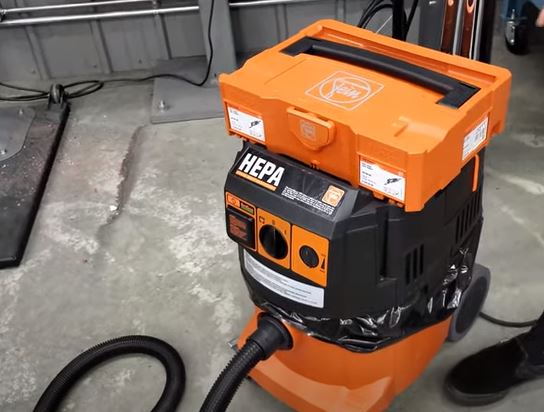 The only downside to this machine is that it doesn't have an automatic shut-off feature. So if you're doing a thorough job, you'll be running the risk of having the unit burn out. But since this is a high quality product with a long warranty, I don't think it would happen often.
The best part about this machine is that it can clean the gym equipment as well. The 13 ft. vacuum hose makes it possible to reach areas that other models cannot.
I bought this product because I wanted something that could handle both wet and dry cleaning. It does a very good job at both tasks.
This is one of those products that you won't regret buying. You'll love it once you try it out.
5. Dyson V11 Torque Drive Cordless Vacuum Cleaner
The name Dyson is synonymous with the best in vacuum technology and design, so it's no surprise that their new cordless model has been created to deliver a superior cleaning experience.
The Dyson V11 is designed to be used on all types of floors, including rubber gym flooring and hardwood flooring. It features an innovative suction system that uses two powerful motors to create a strong pull at the nozzle end of the machine. This allows you to clean even the most stubborn dirt from your home without having to bend down or lift heavy objects.
Just because I have listed this model in no 5 doesn't mean it's not worth buying. If you are looking for a good quality vacuum cleaner then this is one of the best models available.
I bought this product about 2 months ago, and I am very happy with my purchase. I was skeptical when I first saw the price but after using it I can say that it is well worth the money. It does everything that I need it to do and more. My only complaint is that it is not as quiet as some other vacuums that I own. But if you are looking for a great value vacuum then look no further than this one.
What are the messes commonly found on rubber gym floor?
In the gym floor, there are different kinds of messes that can be created by people who use the facility. These include:
• Sweat stains
Sweat stains are one of the most common problems in a gym. People sweat while working out, especially when they exercise vigorously. The sweat drips down their bodies and onto the gym floor. As time goes by, these stains will dry up and leave behind a sticky residue.
• Sticky substances
Sticky substances are another problem that gym users face. When people work out, they often have sweaty hands or feet. Their sweat contains chemicals like salt and sugar which stick to the gym floor.
• Chalk marks
Chalk marks are another type of stain that gym users create. When chalk powder gets into the cracks between the tiles, it leaves behind a white mark.
It is important to know whether your vacuum cleaner is suitable to clean up gym messes. You need a machine that is powerful enough to handle all the messes mentioned above.
How to choose which vacuum cleaner works best for your rubber floor gym?
After doing some research and talking to several gym owners, I compiled a list of questions that you should ask yourself before buying a vacuum cleaner. These questions will help you determine which kind of vacuum cleaner would work best for your gym floor.
1. What size do you need?
The first question you should ask yourself is how big or small the area that you want to clean is. If you have a very large gym room, then you may need a powerful vacuum cleaner. On the other hand, if you have a smaller space, then you will probably need something more compact.
2. How much power does it have?
You also need to know how much power the vacuum cleaner has. A good rule of thumb is that the higher the number, the better the performance. The reason behind this is that high-powered vacuums tend to pick up dirt faster than low-powered ones.
3. Do you need attachments?
If you plan to clean your gym floor regularly, then you will definitely need attachments. Attachments come in many shapes and sizes. Some of them are designed to clean hard surfaces like tile floors while others are made for soft surfaces such as carpet.
4. How often do you clean your gym floor?
If you use your gym frequently, then you probably don't need a heavy-duty vacuum. A good lightweight vacuum will do just fine. However, if you only use your gym once a week, then you definitely need a powerful machine.
5. Who will be using the vacuums?
Another important factor to consider when choosing a vacuum cleaner is who will be using it. Will it be used by multiple users? Or will it be used by one person alone? Someone should take care of it on a regular basis and the machine function should be easy to understand.
6. Is there any special feature that you need?
Some vacuums have extra features that make cleaning easier. For example, they have a crevice tool that allows you to reach into tight corners without having to bend down. They also have anti-allergen filters that keep allergens out of your home.
7. How does it filter the air?
All vacuum cleaners have filters that clean the dust out of the air. There are differences in effectiveness across models and brands.
8. How much noise does it produce?
One of the biggest complaints about some vacuums is that they create noise. However, most people prefer the sound of a vacuum over something else because it serves as an alert whenever something needs to be cleaned. Plus, you'll hear it when it's working properly, and you need to get moving.
Vacuum cleaner for rubber gym floor – how does it work?
The first step when cleaning a gym floor is to remove any loose dirt or debris from the area. This should include dust balls, hair, sand, etc. After removing the debris, you need to make sure that the area is completely dry before beginning the actual cleaning process.
Once the area is dry, you can then begin using your vacuum cleaner. As mentioned earlier, there are different types of vacuum cleaners out there. Some are cordless while others require a power source. But regardless of which type you choose, they all perform basically the same way.
When you turn the vacuum cleaner on, it will suck up the air as well as any dirt or debris that may be caught within it. Once the vacuum cleaner comes into contact with the surface being cleaned (i.e., the gym floor), it will pick up whatever is stuck onto the surface. Then, once you pull the trigger on the handle of the machine, the suction will release and the vacuum will lift itself off the ground. At this point, the hose attached to the bottom of the machine will automatically extend to its maximum length.
Now that the vacuum is extended, you simply need to move the nozzle along the floor until you reach the spot where you want to vacuum. In order to avoid damaging the floor, you should always use the lowest setting possible. If you don't feel comfortable doing so, you can also use the hand control on top of the machine to adjust the height of the head.
After reaching the desired spot, you just need to switch the vacuum back on and slowly draw the nozzle across the floor. Make sure not to overshoot the targeted area because if you do, you could damage the floor. Once you finish the entire floor, you can either continue to vacuum for another section or stop and put everything away.
Which is easier for rubber gym mats – mopping or vacuuming?
If you're like most people who own a home gym, you probably already know how important it is to keep the floors in good shape. And since most gyms are set up near pools, showers, and other areas prone to water accumulation, it's especially important to take care of those hard-to-clean surfaces.
But what's the proper way to clean them? Mopping seems pretty straightforward; just use a wet mop and scrub away. However, it turns out that an effective solution isn't quite as simple. That's because while wiping down the gym mat might seem like a quick fix, it only serves to spread germs around the room. Plus, even though it doesn't require much effort, mops aren't very efficient at cleaning the floor. They tend to skip over tiny bits of debris instead of collecting them.
That's why one of the best ways to keep gym floors clean is by vacuuming. While it's true that vacuums can get expensive, the cost of owning a mop is far greater. Not only does a moped have to be replaced every month, but it requires constant maintenance and costs money to replace the filter, blower motor, and other parts that eventually wear out. It's also worth noting that many vacuums come with a microfiber pad or brush attachment that makes cleaning easier.
Bags or bagless vacuums – Which Is Better?
Bagless vacuums are generally quieter than those with bags. They also tend to be lighter, which makes them easier to move around. Because of these factors, many owners prefer bagless vacuums.
However, bagless vacuums aren't always the best. For instance, they might not pick up as much debris as a traditional vacuum with a bag. And while they do eliminate the hassle of emptying the bin, they still require users to empty the dust cup every time they use the machine.
What are the difficulties associated with vacuum cleaning rubber gym floors?
The major difficulty in cleaning rubber floor mats is picking up the right amount of dirt and debris. Unlike other surfaces, you shouldn't expect your vacuum to pick everything up and get it out. It's more likely that what gets picked up isn't enough, leaving particles on the floor where they can become slippery or sticky. So, in addition to cleaning every nook and cranny, you'll have to do a thorough job removing the remaining debris.
Final Thought:
When choosing a vacuum for your home gym, it's crucial to consider these key factors. After all, no one wants to spend time cleaning after workout only to see a huge mess left behind. And, if you're looking for a powerful machine that offers easy maintenance, then our picks above are a great way to go!